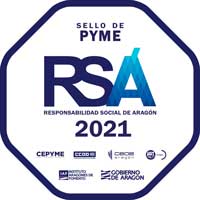 In Pagola Poliuretanos we are aware of the interrelation between business decisions and context. We accept our Corporate Social Responsibility and, year after year, we are recognized as a CSR member.
Both our decisions and those of the economic and social stakeholders are crucial for the evolution of society.
For this reason, we should aim at having a strategic vision that helps us manage the opportunities and threats for our stakeholders in the best possible conditions. Each company may contribute to the common good and environmental sustainability according to its means. Our work system always considers all nuances and predictable implications of the decisions taken.
While recognizing that circumstances can change quickly, our company has a clear tendency towards productivity, meaning we provide the means to identify possible contexts and, therefore, we are in the best position to deal with them. We are convinced that it is only by anticipating that it is possible to generate the necessary resources to face a possible future crisis, or to take advantage of an opportunity to create value.
Communication channels
As part of our social responsibility, we have opened communication channels with most of the stakeholders identified, starting with those most directly linked to our activity but being aware of the importance of communicating with other relevant stakeholders.
We put active listening into practice through different channels. This information is conveyed to the company's executives to be incorporated in the decision-making process. The methodology is updated according to the information needs identified, as well as to the evolution of technology available for this purpose.
The information provided by our active listening practice enables us to incorporate ideas into our continuous improvement system. This system includes the assessment of improvements introduced as part of the process.


Social Value
Located in Épila (Zaragoza), we are aware of our social responsibility, which is also materialized with the creation of value for our fellow citizens. We work for Aragon as well as for other Autonomous Communities where our activity may create social impact.
A strict talent recruitment protocol enables us to have specialists in every field necessary for our activity. Attracting and keeping talent in rural areas is essential for local sustainable development.
Sustainable innovation
Our company has a long tradition of innovation. Each department is involved in fostering innovation and creating value for both our clients and the rest of society.
We handle every detail and each step in the manufacturing process, from raw materials to storage of the end-product.
We provide our clients with a previous explanation of both formulations and their applications. Our after sales service offers an immediate response and a spirit of closeness to clients. We provide detailed technical specifications of products, as well as trials and quality controls.
Professional team
Thanks to our cohesive and stable team, upstream communication channels work easily. We are currently working on the development of the most appropriate methodology to systematize and optimize this information flow.
We are always available at our address and willing to answer any problem, request or suggestion.

A strict talent recruitment protocol enables us to have specialists in every field necessary for our activity. Each department is made up of mixed-gender workforce. Our company has acceded to the Convention +Directivas with INAEM, by which we are committed to pursuing gender balance and equal opportunities.
Each chief of section aims to meet the training needs of its staff, suggesting those initiatives more adequate for each particular case. To achieve this, the performance of employees at their workplace is observed. Not only we search for training opportunities that are needed today, but also for those necessary to develop the talent discovered in our team.
The Occupational Safety and Hygiene system comprises specific measures above the legally established terms aiming to improve the work environment.